Haulin Summit Information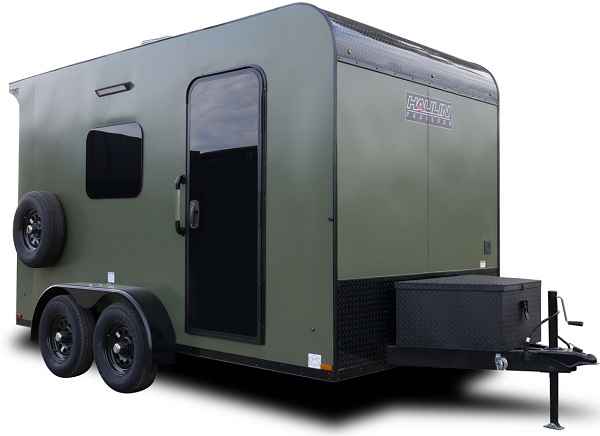 Introducing the all NEW Summit. This 13' camper is your new heavy duty multi-purpose weekend getaway. The Summit is perfect for those who want something that is functional and multi-recreational. With our pop out bed, you can sleep while storing your ATVs and UTVs safely on the inside with you. A new exterior feature that looks amazing is our tempered glass side door. This side door is able to be blacked out with our interior blinds to make it impossible to see in and give you the privacy you need. Any weekend warrior will love this off road cargo trailer with how versatile it can be.
The Quality and Value Leader in the Cargo Trailer Industry.
Over 20 years ago Haulin began producing trailers in a small production facility in a small Indiana town. Through continued growth in demand for its products, Haulin Trailers has now expanded to several manufacturing facilities in the area.
Now many times the original size, Haulin has continued to grow with the introduction of new product lines offering its trailers with many types of configurations in both steel and aluminum framing. Our facility's Custom Shop is capable of incorporating customer's Special Needs. We have personnel that can work with you and your selling Haulin dealer to design a working plan to fit your trailer needs.